I know what boys like, I know what guys want. Boys like, boys like, buffalo chicken bites!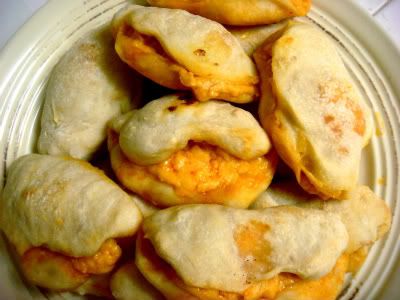 I hit a home run with the boyfriend by making these little babies. Matt's favorite thing in the world (I never exaggerate) is buffalo chicken. I refuse to heat up the deep fryer (an appliance I prefer to never learn to use) so when I saw
Joelen's
take on buffalo chicken (
here
), I knew I had to make them! Mine are significantly less attractive and I did make some alterations but they were definitely gone in less than five seconds (no exaggeration, obviously).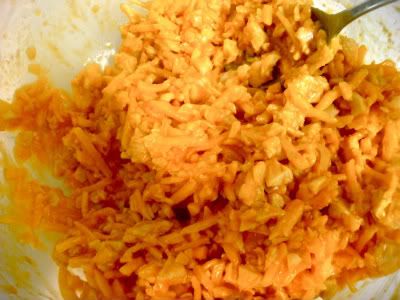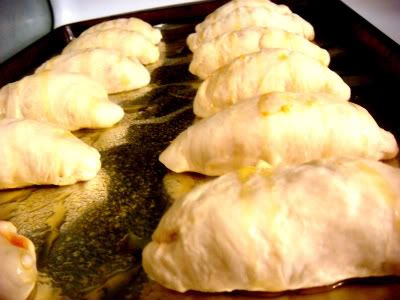 Buffalo Chicken Bites (my version):
Ingredients:
1 packet Trader Joe's plain pizza crust
1 cup cooked chicken, finely chopped
1 cup shredded cheddar cheese
1/4 cup Frank's Red Hot
4 tablespoons butter, melted
olive oil for drizzling
Mix together chicken, cheese, hot sauce and butter. Separate dough into twelve even-sized pieces. stretch out each piece of dough and stuff with chicken cheese mixture. Seal together like a mini calzone, drizzle with olive oil and bake as per the dough's instructions (400 degrees, 8-10 minutes).
I thought I had sealed my calzones well but many burst open. No matter, they were delicious! I was pleasantly surprised with the Trader Joe's pre-made pizza crust, I can't wait to try their garlic and herb crust!
My boyfriend's parents are in town and they brought with them two very ripe bananas so I am racking my brains to figure out what to bake with them. I don't want to make a traditional banana bread (yawn). I saw a banana tres leches recipe somewhere, must investigate further...