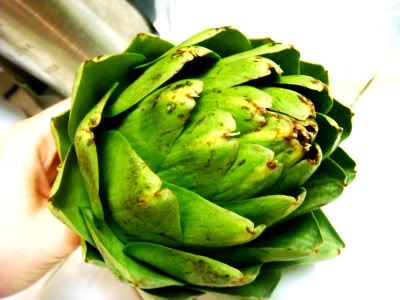 Last Sunday I went to my local farmer's market where I picked an array of fruits and veggies including this lovely thing. I've never prepared an artichoke and, truthfully, have only had it this way once before years ago at a Cheesecake Factory restaurant. However, for a grand total of $2, I was up for the challenge.
I did a bit of research before proceeding. So here's how I prepared it...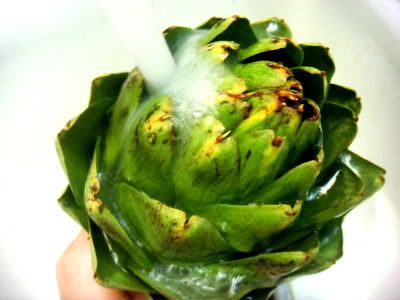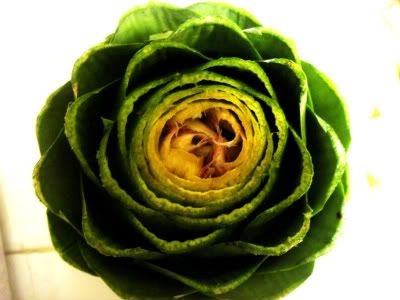 First wash your artichoke. Trim the lower leaves and stem. Because the artichoke will brown up on you, be sure to keep dunking it into lemon water as you go. Cut the top 1/4 of the artichoke and trim the leaves with a scissor. This step is not necessary as the thorns will soften but, seeing as they poked me all week every time I reached into my vegetable drawer, I had revenge to get!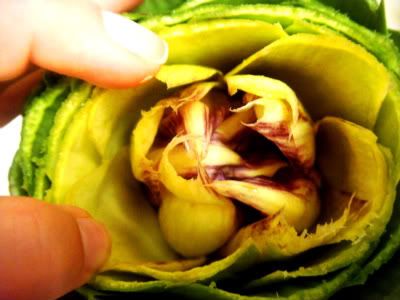 Ah, the choke! That would be the hairy part and it's inedible. I removed as much as I could before cooking (as well as the purple leaves which are VERY thorny!) but I think the choke is best removed once cooked. Anywho, I put an inch or two of water in a pot with two crushed pieces of garlic and some salt. I waited until the water boiled, place the artichoke in bottom down, covered and reduced the heat to simmer for 30-40 minutes.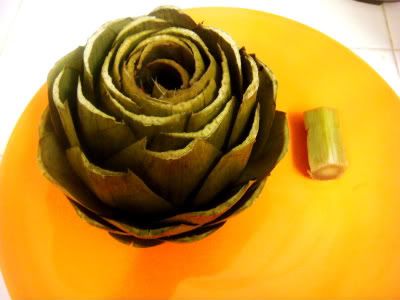 Deeeeeelish! The leaves just fell right off. I ate them with some garlic butter. I'll probably stick to canned artichoke though, this was a lot of work for little result.