I have a confession: Yesterday I made chocolate cashew cookies! I know, I know, the chocolatiatus (similar to
Ali
's
blogiatus
but with chocolate). But those cookies were a late Father's day gift and are currently en route to Miami, so OBVIOUSLY they don't count! And the Pops loves chocolate and cashews so it would have been selfish of me to not make them. I am taking my hiatus from chocolate seriously though! I was in the baking mood today and had a bunch of limes I had bought to juice but knew would spoil before I got through them all so I made...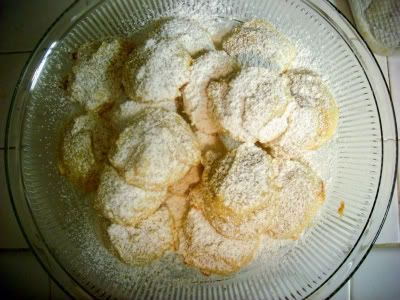 key lime cookies!
Ingredients:
1/2 cup of butter

1 cup white sugar

1 egg

1 egg yolk

1 1/2 cup all purpose flour

1 teaspoon baking powder

1/2 teaspoon salt

1/4 cup lime juice

1 1/2 teaspoons grated lime zest

1/2 cup confectioners sugar for decoration
Preheat oven to 350 degrees F (175 degrees C). Grease cookie sheets.
In a large bowl, cream butter, sugar, egg, and egg yolk until smooth. Stir in lime juice and lime zest. Combine the flour, baking powder, and salt; blend into the creamed mixture. Form dough into 1/2 inch balls, and arrange on the prepared cookie sheet.
Bake 8 to 10 minutes in the preheated oven, or until lightly browned. Cool on wire racks. Sift confectioners' sugar over cookies while still warm.
I followed this recipe to a tee but found the dough was goopy and really more of a batter. The first batch came out like this: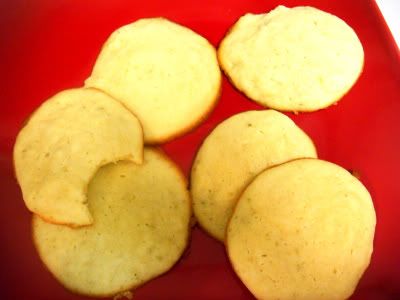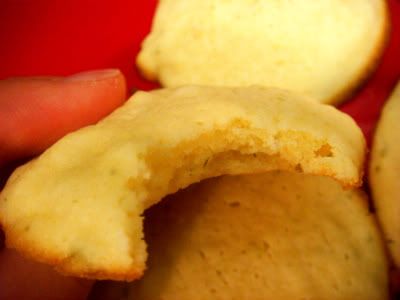 They weren't bad but they were more pancake than cookie. I followed my baker's instinct and added about a 1/2 cup more of flour which gave them the correct consistency.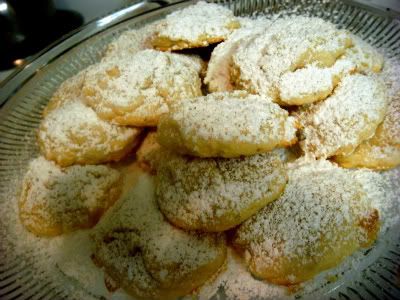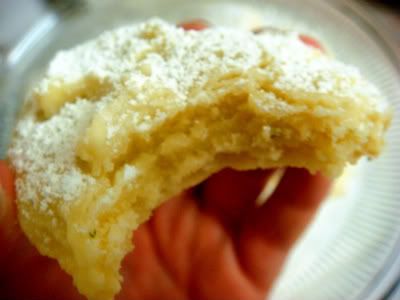 Lesson learned: don't be afraid to follow your instinct when baking. Recipes can differ due to elevation, humidity, temperature, etc. What works for one baker may not work for you and if the recipe is off, don't hesitate to fix it! These cookies were light and citrusy, a good summer cookie. And while I found these cookies good, they were far from my favorite. One chocolate-free recipe down, four to go! The boyfriend's brother and his wife (who is allergic to chocolate) are visiting next weekend which coincides perfectly with the chocolatiatus!
Today, as it was a free-day for me, I made enchiladas for dinner. The boyfriend (finicky eater) told me he wasn't too hungry so imagine my surprise when he cleaned his plate AND went back for seconds. I've known him since high school and I don't think I've ever seen him eat so much; he declared them "the best thing" I've ever cooked! Really?? I wasn't going to blog them but this was truly momentous.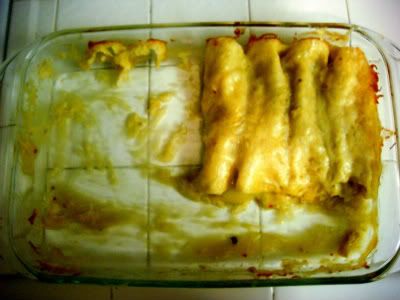 So there it is, the "best thing" I've ever cooked! I couldn't believe how much we ate (four enchiladas each!!)
I just rubbed some chicken with garlic salt and cooked it in a pan. Then I shredded the chicken between two forks, added back to the pan and stirred in oregano and garlic. I spread a thin layer of store-bought enchilada sauce on the bottom of a glass casserole dish. I filled each corn tortilla with some chicken and shredded Mexican cheese and placed seam down. I poured enchilada sauce all over the tightly packed enchiladas and sprinkled with cheese on top. I baked at 350 for 30 minutes.
And this will probably be my last bird pictures since they seem to have left...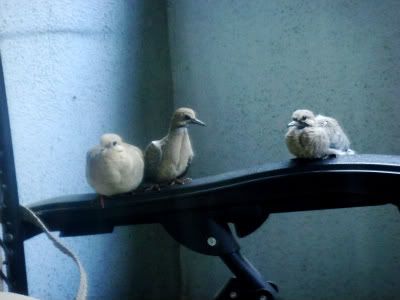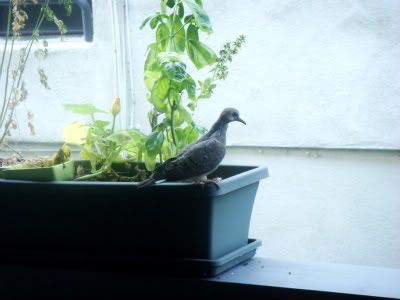 Too sweet!