Today Matt and I walked over to our local farmers' market. Neither of us knew whether the fresh produce would be less or more expensive than what we buy at our local grocery store, especially since it was in such a nice part of town! Either way, I brought along my
Blue Avocado
reusable bag just in case we lucked out...
And, oh boy, did we! I managed to knock out 95% of the fruits/vegetables on my list for about 1/2-1/3 of the price!! Here's what we got...
1 bunch of bok choy - $1 (SCORE!)
1 bunch kale - $1
1 bunch beets (4 beets) - $1
3 avocados - $4
1 medium sized piece of ginger, 1 onion, 1 bunch of broccoli, 1 garlic bulb, 1 zucchini - $3.50 for the bunch (double SCORE!)
3 tomatoes - a couple bucks
I don't remember the price of the strawberries as they were the boyfriend's purchase. I also got a "Tri Color Salad"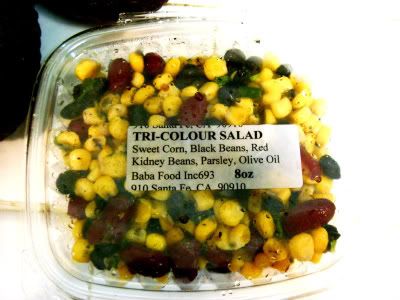 I tried a little bit when I got home and, while I love the small ingredient list, I found it a bit bland. It could really use some lemon or vinegar to give it a kick and at $4 it was hardly a steal. Overall I found the fresh produce to be great, fresh and cheap; plus I love supporting the local farmers! The prepared foods such as the Tri Color salad and dried fruits, etc weren't as good a deal. Later, Matt and I went to the gym where I worked out my legs BIG time! After, I used half of the bok choy, the zucchini, the broccoli and two carrots I had at the apartment to make a wonderful veggie brown rice stir fry for tonight's dinner.I'll be eating these leftovers all week!
Oh, and did I show you the bowl I bought for my fresh produce last week??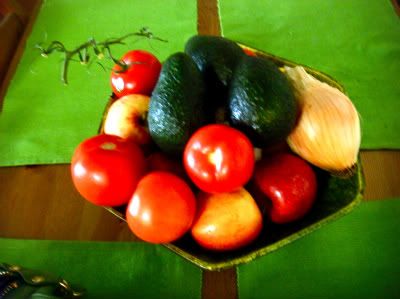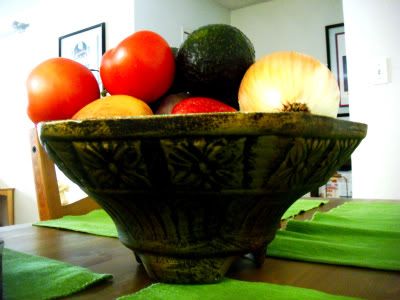 I thrifted it for $4!! The boyfriend and I are loving all of the great thrift stores around Los Angeles and the wonderful treasures they hold!