I had a blast this past weekend in San Diego visiting an elementary school friend. Our boyfriends bonded over golf, we shared a delicious Italian meal in Little Italy and went out to the swanky W hotel to ring in her birthday in style! I even picked up a fabulous new techno-tribal skirt at the mall which I can't wait to show you :)
Unfortunately, I was a complete waste when it came to photographing the trip! I'll try to snag some photos from my friend but for now I have nothing for you. I did, however, realize I had lots of unposted food pictures. So, I'm going to do a quick recap of the last month in food!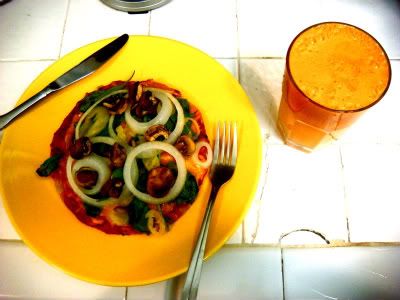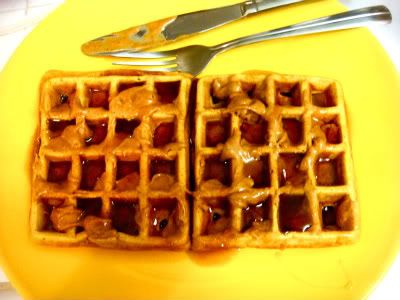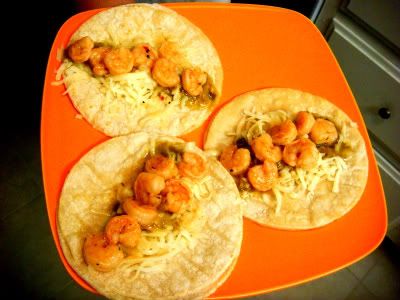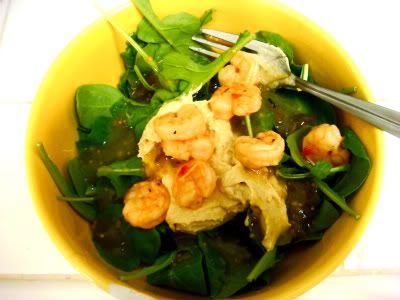 1. veggie
pita pizza
on a whole wheat pita with tomato sauce, onions, mushrooms, banana peppers, arugula, and cheddar cheese plus a fresh juice made from 3 carrots, 2 apples, 1 orange, 1/2 lemon and a one inch piece of ginger - the perfect lunch. period.
2. crockpot shepherd's pie - tasted just like it does in England.
3. pumpkin waffles using Trader Joe's Pumpkin pancake and waffle mix topped with almond butter and maple syrup - a DECADENT breakfast!
4. shrimp tacos the boyfriend made with spicy marinated shrimp, shredded cheese and salsa verde on tortillas - he was so proud that he wanted me to show you guys!
5. what I did with my portion of shrimp: served over arugula with hummus and salsa verde - I am so over arugula for some strange reason but I love hummus on my salads like there's no tomorrow :)
And because I KNOW you care, this morning the bird's nest was empty. I was admittedly a little worried that something may have happened since they left so suddenly but was glad to see them back later on in the day. I'm so happy that they are learning to fly and that their parents still watch them diligently. I just know they'll grow up to be well-rounded
individuals
pigeons :)