I asked my friend Natalie what I should bake next and she said it should be something that is NOT chocolate to which I wholeheartedly agreed and then look what I did....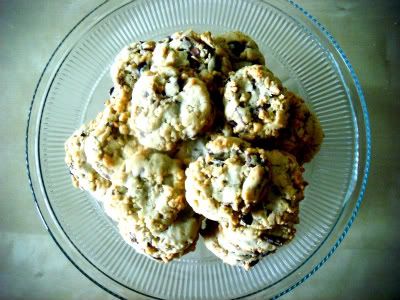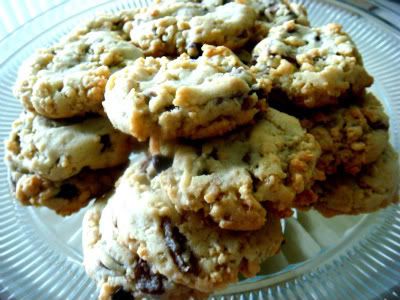 I made
Rice Krispie chocolate chip cookies
! What can I do? The boyfriend LOVES chocolate chip cookies and I know I shouldn't spoil him so but I won't eat an entire batch of cookies on my own and I like making stuff he likes. However, I DID put my foot down; I said "No more chocolate for at least FIVE recipes!!!" He tried to haggle me down to one but I wasn't having it! A recipe counts as any sweet I make and can include ice cream; it doesn't have to just be baked goods.
Okay, back to the cookies! Now because I substituted Rice Krispies for Trix in my Trix treats, I felt bad for Mr. Snap, Crackle and Pop. It's not their fault Rice Krispie treats are overdone. I remembered making similar cereal cookies in college so I found a recipe on
the Rice Krispie website
. These are best directly out of the oven (what cookies aren't?) when they're oh-so-soft and crunchy at the same time. It's mind blowing! They lose their softness quickly so nuke them in the micro for 20 seconds if you're not eating them fresh.
Ingredients:
1 1/2 cups all purpose flour
1/2 teaspoon baking soda
1/4 teaspoon salt
1/2 cup of butter, softened
1 cup sugar
1 egg
1 teaspoon vanilla
2 cups of Rice Krispies
1 cup of semisweet chocolate chips (I didn't have enough so I broke apart some German Milka chocolate, blasphemous, I know!)
Stir together flour, baking soda and salt. Set aside. In a large bowl, beat butter and sugar until light and fluffy. Add egg and vanilla, beat well. Add flour mixture, mix till combined. Stir in cereal and chocolate chips. Drop tablespoons onto greased cookie sheets and bake at 350 for about 12 minutes, until lightly browned.
Delishhhh!