Or healthfullly decadent? In either case, tonight's dinner definitely struck the balance between healthy food and comfort food. Dinner was a three cheese brown rice and veggie casserole.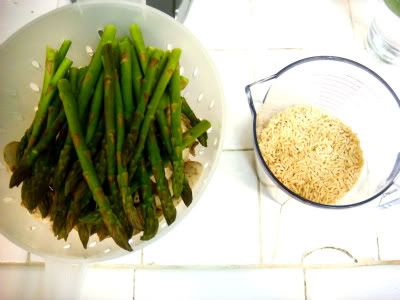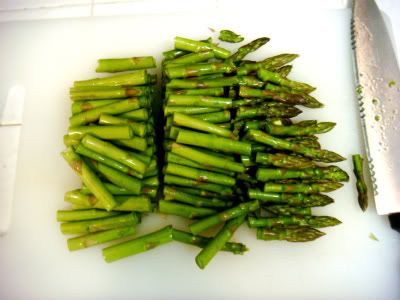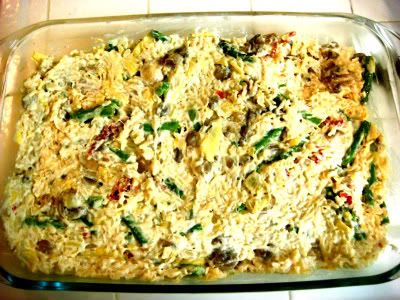 my portion:
Ingredients:
1 bunch asparagus
1 8 oz package of mushrooms
1 cup uncooked brown rice
3 tablespoons sun dried tomato
1 tablespoon minced garlic
1 jar of artichokes (quartered)
4 oz light cream cheese
1 cup shredded mozzarella
4 oz goat cheese
olive oil
Cook brown rice as per instructions and preheat oven to 350. Chop asparagus into 1-2 inch pieces. Saute asparagus and mushrooms in olive oil and garlic over medium heat until cooked but asparagus should be crisp-tender. Combine asparagus, mushrooms, artichokes sun dried tomato and the three cheeses (save 1/2 of the mozzarella) in a large mixing bowl and stir until well incorporated. When rice is done, stir cheese and veggie mixture into rice. Spread onto a casserole dish and top with remaining mozzarella. Bake until cheese is lightly browned and bubbly (I got inpatient and put the broiler on after 15 minutes!)
This casserole dish was truly decadent but I couldn't feel too bad about it since it was full of vegetables!!
Dessert was inspired by
Carrots N' Cake
's
lentil brownie
post. I wasn't quite brave enough to incorporate lentils into my baking but I did find
this
black bean brownie recipe.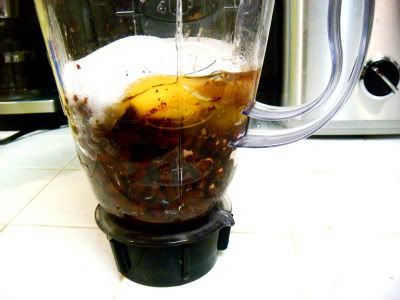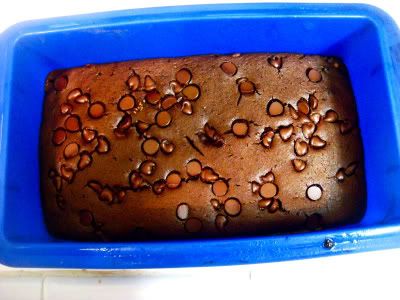 These brownies came out bee-you-tee-full! And while I liked them very much, let's just say they could not fool the masses. I'm proud of the boyfriend for trying a bite but he did NOT like them, even when covered in Ben and Jerry's Karamel Sutra!! So while they don't rival full butter and flour brownies, they are a good healthy alternative in my opinion. Definitely worth a try (especially since I had all ingredients on hand).
Ingredients
1 can of black beans rinsed and drained
3 eggs
3 tablespoons olive oil
1/4 cup cocoa powder
a pinch of salt
1 teaspoon vanilla extract
3/4 cup sugar
a handful of chocolate chips
Preheat oven to 350 and lightly grease a small brownie pan (I used a loaf pan because the recipe doesn't yield a lot). Combine all ingredients except for the chocolate chips in blender and blend till smooth. Pour batter into pan and sprinkle chocolate chips on top. Bake for 30-40 minutes until toothpick inserted into center comes out clean.
P.S. I'm officially the worst liar ever!! When the boyfriend came home I told him I was baking brownies but "wasn't too sure" about the recipe; he looked at me suspiciously and asked, "What healthy sh** did you put in them??" Hahahaha, he knows me too well...