Last night we had an impromptu DIY Pinkberry night at my apartment. Although, I suppose "Pinkberry" wouldn't be correct in this instance seeing as I made the frozen yogurt from scratch using my handy dandy ice cream maker! We mixed pomegranate seeds, fresh strawberries, and Oreo cookies in to the frosty concoction.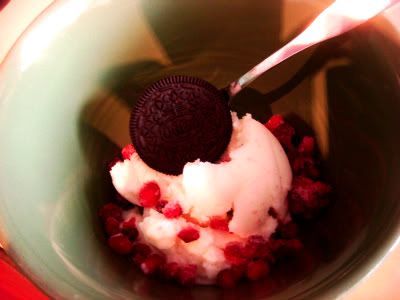 Here's the recipe I used:
Vanilla Frozen Yogurt
Ingredients:
1 2/3 cup whole milk
3/4 cup granulated sugar
4 cups fat free vanilla yogurt
1/4 cup heavy cream
1 tablespoon pure vanilla extract
In a medium mixing bowl, use hand mixer on low to combine milk and granulated sugar until sugar is dissolved (1-2 min). Stir in yogurt, heavy cream, and vanilla. Freeze in ice cream maker.
For some reason I was surprised how much actual "yogurt" goes into frozen yogurt. Also, I used the mixer to incorporate the yogurt, cream and vanilla because it came out clumpy when I just tried to stir it. I was so happy with how it came out; it was the best frozen yogurt I've ever had (not to toot my own horn!)
Once again, I came home for lunch today and partook in a
pita pizza
and some froyo with pomegranate seeds and an Oreo mixed in for dessert.