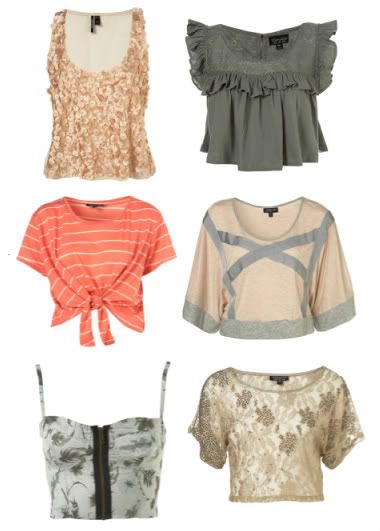 1.
Sequin Disc Crop Vest
- $90
2.
Crochet Insert Frill Crop Top
- $44
3.
Striped Crop With Knotted Tie
- $28
4.
Oversized Crop Top
- $50
5.
Botanical Crop Top
- $50
6.
Premium Lurex Lace Beaded Tee
- $80
I am adoring
TopShop
's new line of cropped tees! From the ease of the nautical-inspired Striped Crop to the shimmy and shake of the Premium Lurex Lace Beaded Tee, I wish I could score each one of these vertically challenged tops. How cute would the Botanical Crop Top look with a pair of skinnys, long silver pendant necklace and chunky wooden heels? Each one of these would work wonderfully as a swimsuit cover up or for a night on the town depending on how they're accessorized. I'll be doing an extra set of crunches tomorrow!
P.S. I made Martha's
Chocolate Pound Cake with Peanut Butter Glaze
this evening (sorry, no photos!) If you would like to make this, note that the cake took 15-20 minutes less than stated in the recipe. Thank goodness I checked! My pound cake came out perfect texture-wise but I expected it to be sweeter than it actually was. If I make it again (my to-bake list is long) I would at the very least mix some confectioner's sugar into the glaze. Happy baking :)