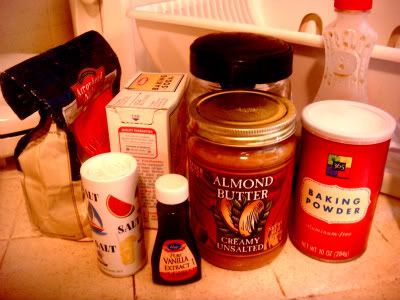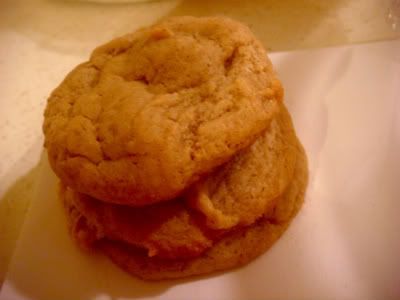 I'll admit, baking vegan scared me a bit at first. Not cracking an egg left me with that nagging feeling that I was forgetting something which was somewhat annoying at first until I realized... it was perfectly okay to lick the batter! Yay! I decided to make
this
recipe for the girls at work. Having been vegetarian for 6 years, I know how it feels like when there is nothing for you to eat. On that note, I decided to forgo eggs and butter (a regular baking staple of mine) for oil, maple syrup and almond butter. The cookies, being my first vegan baked goods, came out so nutty and delicious!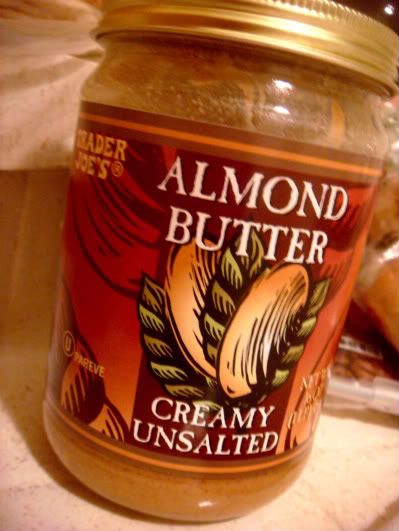 I have a love affair with almond butter so it wasn't too hard to win me over but hopefully everyone else likes them! Here's the recipe I used that was adapted from a peanut butter cookie recipe by
Love like a Vegan
:
Almond Butter Cookies
Makes 12 cookies
1 cup all-purpose flour
1 tsp baking powder
1/2 tsp baking soda
2 tbs sugar
1/4 tsp salt
1/3 cup almond butter
1/2 cup maple syrup
1/2 tsp vanilla extract
1/2 tsp almond extract
3 tbs canola oil
1. Preheat oven to 350 degrees. Lightly grease a cookie sheet.
2. Sift flour, baking powder, and baking soda. Stir in the sugar and salt.
3. In a separate bowl, combine the peanut butter with the maple syrup and extracts. Stir in the oil.
4. Add the dry mix to the wet mix until well combined.
5. Place tablespoon-fuls of dough on cookie sheets. Bake for 7-8 minutes or until golden brown. Cool on racks.
*I couldn't find almond extract at Trader Joe's so I just used vanilla extract and they came out great!