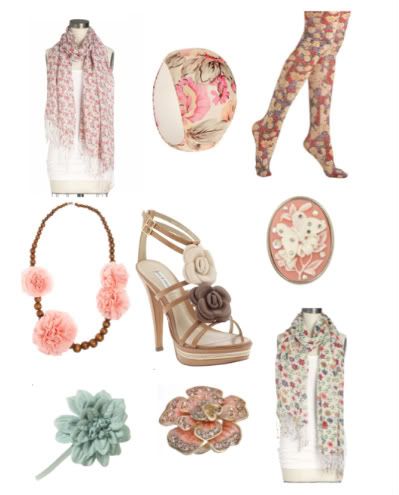 We are officially in March and therefore Spring has sprung! While some may say that florals for spring are "cliche" (cue Meryl Streep in The Devil Wears Prada rolling her eyes), I just love them.
1. Spun by Subtle Luxury -
Ditsy Floral Scarf
2. Urban Outfitters -
Organic Flower Bangle
3. ModCloth -
Wildflower Mix Tights
4. ModCloth -
Martinique Necklace
5. Kelsi Dagger -
Belize Sandals
6. Tarina Tarantino -
"Bubble Pop" Butterfly Cameo Mod Ring
7. TopShop -
Large Flower Headband
8. TopShop -
Encrusted Flower Ring
9. Spun by Subtle Luxury -
Spring Harmony Scarf
A word of warning: do not go overboard; there is a fine yet distinct line between feminine and foolish, ladylike and looney, you get the picture. Pick one bold bloom and keep the rest of the look neutral or juxtapose the delicateness with lots of hardware or leather. For instance, wouldn't the
TopShop ring
above make a perfect contrast to some liquid leggings and sky-high heels?