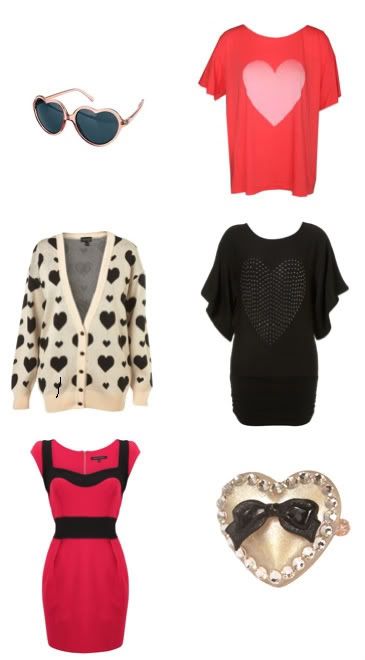 Happy Valentine's Day! I know some people are not huge fans of the holiday but I really am. Here's a compilation of what I wish I was wearing this Valentine's day. Not very subtle, huh?
1. Urban Outfitters -
Sweet Heart Sunglasses
2. Wildfox Couture -
Big Pink Heart Unisex Tee
3. Top Shop -
Knitted Heart Cardigan
4. Top Shop -
Diamante Heart Wal G** Jumper
5. French Connection -
Sarah Dress
6. Tarina Tarantino -
Tuxedo Lingerie Puff Heart Stretch Ring
I love how the neckline and the bright red color on the French Connection dress give it a subtle heart shape. I also own a very similar pair of sunglasses in hot pink that I purchased in Venice Beach for $8. I will be wearing them today.