As promised, here is a post on how to make the perfect Cuban coffee! First, you will need an espresso maker and a good Cuban coffee like Bustelo or Pilon (I was worried about not finding either outside of Miami but found both at Target here in Los Angeles).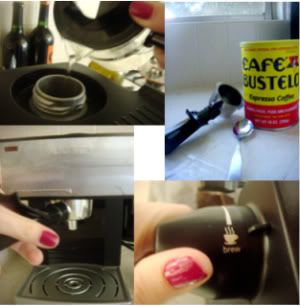 Step 1: fill the pot with water and pour into the top, close tightly
Step 2: pack the filter with coffee, pat it down and add some more. Screw in tightly
Step 3: plug in and twist to "brew"
Step 4: pour sugar into a separate cup (8-10 teaspoons, about one per each espresso cup, it should be extremely sweet!) and place cup in machine
Step 5: let coffee brew till just coating the sugar, switch the cup with the empty pot
Step 6: beat the sugar vigorously with a spoon
Step 7: when coffee has finished brewing in pot, mix coffee with sugar mixture
Pour Cuban coffee into espresso cups and enjoy! At this point (or the next day with leftover coffee), if you want cafe con leche (similar to cafe au lait), pour a mug 3/4 full with milk and microwave for 2-2 1/2 minutes on high. When done, pour cuban coffee into milk.
And there you go! The perfect Cuban coffee or cafe con leche, whichever you prefer!