You may or may not remember
this
perfect little denim dress I raved about earlier. Well, here is part two of my series "Way to Wear the Trend":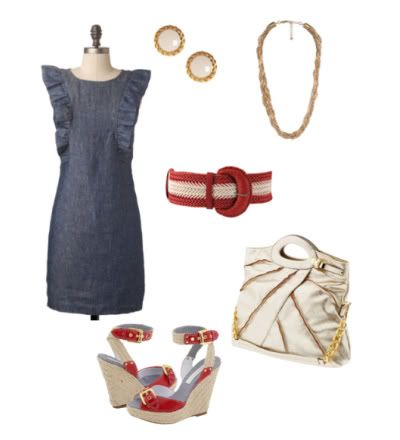 1. ModCloth -
Nursery Rhyme Dress
2. ModCloth -
Edie Earrings in Socialite
3. Forever 21 -
Tubular Beaded Necklace
4. Forever 21 -
Woven Laces Belt
5. Melie Bianco -
Diagonal Stitch Tote
6. DSquared -
G006
My last post was "baby shower chic". In this look, I incorporated white, red and gold to create a nautical look. I love gold accents for the summer and I think this oversized Melie Bianco bag (only $79!) would really dress up any daytime look. Plus, I love how you can clutch the top handle or just sling it over your shoulder! It may be a bit early, but I think this ensemble would be great for July 4th or brunch on a balmy summer weekend.