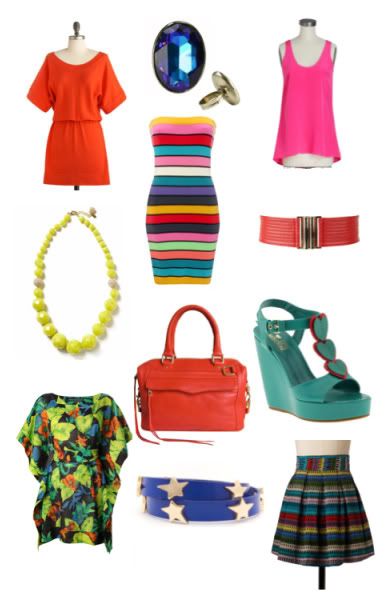 It may not be spring quite yet, but in my mind, I'm already there! This winter, I filled my wardrobe with dark denim, neutral leather accents and lots of white and grey tops to layer. I am over the drabness of the season and am, therefore, fast forwarding into spring! Here are some of my favorite picks to brighten up any wardrobe and maybe, with lots of wishful thinking, we can usher in some warmer weather!
1. ModCloth -
Tangerine Dream Dress
2. Tarina Tarantino -
Super Sized Crystal Cocktail Ring
3. Gemma -
Brites Silk Tank
4. Kate Spade -
Swirl Glitz Ball Necklace
5. French Connection -
Wimbledon Tube Dress
6. Forever 21 -
Metal Slat Belt
7. Rebecca Minkoff -
Morning After Mini With Strap
8. Moschino Cheap and Chic -
Sandwich Wedge
9. French Connection -
Safari Floral Beach Tunic
10. Vita -
Como Wrap Double
11. ModCloth -
Shades of Summer Skirt
This blog post may not have been a good idea. Now I'm borderline obsessed with the Moschino wedges!