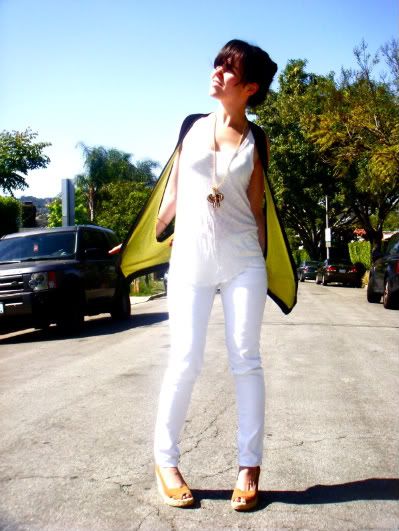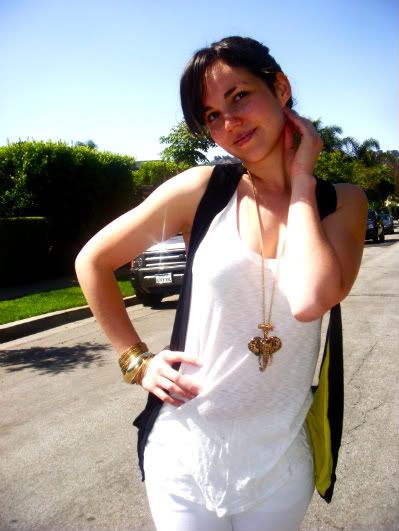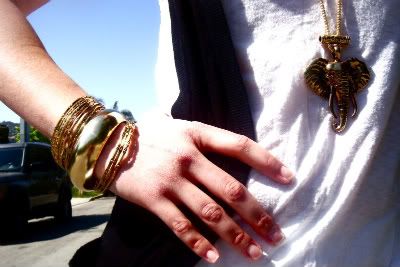 tank top, Urban Outfitters; jeans, Paige denim; vest, Morphine Generation; shoes, Michael Kors; bangles, Amrita Singh and AV Max; necklace, Melrose TradingPost
I love this new elephant necklace I got at the Melrose Trading Post last weekend. There were so many good finds; I can't wait to go back and really look. Also this is my favorite (and only) vest I own. Memo to self: buy more vests! I am, however, not happy that I didn't steam this tank before photographing it. Steaming clothing has been ingrained in my mind over and over again the past few months. In fact, I spent the better part of this morning steaming away for a photo shoot I was on. As for my hair, this is my solution to messy unkempt hair: blow dry bangs and throw the rest up in a high bun. It's a good quick-fix.
Yesterday, on the morning of a big photo shoot, I sliced my right ring finger open at the knuckle loading garment bags into a car trunk. The cut went completely through my skin and blood ran down my hand. I freaked out, I cried in front of my bosses, I decided I needed stitches, I had my boyfriend pick me up, I spoke with my mom who finally calmed me down, I went to CVS, they said I probably didn't need stitches, I bought stuff to clean and bandage my cut properly, I cleaned and bandaged it properly and I went back to work. I'm glad I was able to go back to the photo shoot although I couldn't bend my finger all day and it was extremely sore. Today it looks worlds better but I'm still bandaging it and wrapping it with medical tape. I hope to have more mobility of it tomorrow; there's nothing worse than feeling sick or injured.
These pictures were (obviously) taken this past weekend (pre finger incident).