You can take the girl out of Miami but you can't take the Miami out of the girl! Never mind that I made my awesomely delicious
flan de queso
just the other week. This week I broke in my new
slow cooker
by making lechon aka shredded pork in mojo aka citrus/garlic marinade. I apologize in advance if the pictures offend any vegetarian/vegan blog readers! I myself am slowly becoming a quasitarian and felt horrifically barbarian pulling the meat apart with my own hands. However, the pork came out EXACTLY like my dad makes it and reminded me tremendously of home!
It took all of yesterday to cook so I had it for lunch today with some Trader Joe's Cuban-style black beans which were surprisingly good/authentic tasting and a side salad of arugula, edamame and balsamic dressing (not in keeping with the Cuban theme but I wanted to get some veggies in).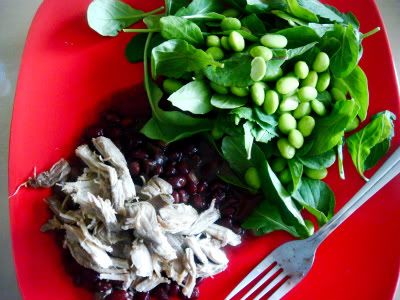 and here's a picture of it last night in the crockpot:
Using the crockpot was amazingly simple! I just rubbed the pork shoulder with salt and cooked it on low for, basically, forever (8-10 hours), added mojo (which I made from scratch as well) and cooked on high for 2-3 more hours. Delish!
Bird Update: Yesterday my boyfriend, fearing we would somehow harm the birds, disassembled their nest so they could go elsewhere. The birds came back this morning with a stronger nest! They clearly want to nest in the herb garden so we decided it was fate and they should stay. I plan to leave them be and just observe from afar. It would break my heart to disassemble the nest again not knowing if they'd have time to build another one.
This is what it looked like during lunch today: