Did I tell you that yesterday I came home to a large package from Miami?? Well, inside was none other than...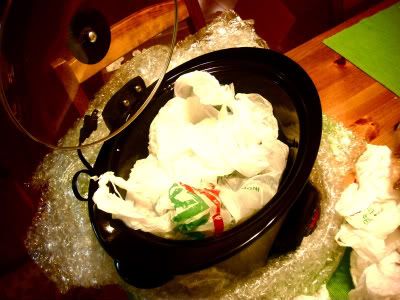 My new crockpot!! I am so excited to cook things slowly :) And inside the slow cooker...
A bunch of goodies from my parents' trip to the South! They packed sweet potato butter, a spicy jelly, Paula Deen chocolate marsh mud cookies and Paula Deen seasoning. They said the Paula Deen restaurant was just "Okay" but oh boy am I excited to try her cookies! But most of all, I'm excited to add a new kitchen appliance to my already extensive collection.
Thank you, Mom, for sending this foodie goodie bag!!