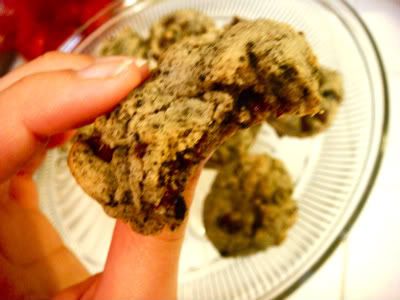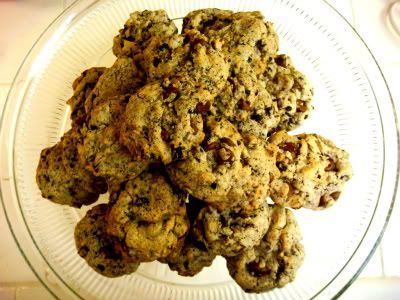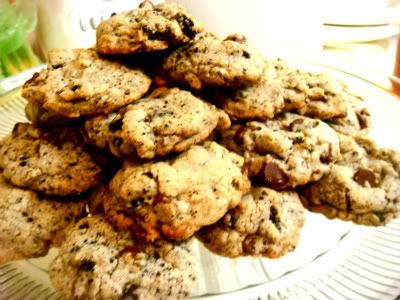 Last night I made Lovin from the Oven's
Chocolate chip Oreo cookies
:
1 stick softened butter

6 Tablespoons sugar

6 Tablespoons brown sugar

1 egg

1 teaspoon vanilla

1 ¼ cup flour

½ teaspoon baking soda

½ teaspoon salt

11 broken pieces Oreo Cookies

1 cup chocolate chips
1.
Preheat oven to 350 degrees F.
Cream butter, and sugars until well combined.
Add egg and vanilla until mixed well.
2.
Place flour, baking soda and salt into a large bowl, stir to combine.
Slowly add dry ingredients to wet ingredients then stir in oreos and chocolate chips until just combined.
3.
With a medium cookie scoop, scoop onto baking sheet.
Bake for 10 minutes or until cooked, but still soft.
Let cool on baking sheet for 3 minutes before transferring to cooling rack.
The recipe was extremely easy to follow and the results were utter perfection! A cookie within a cookie; why hasn't anyone thought of this before? My boyfriend smashed the Oreos very finely in a ziplock. Next time I would like more big Oreo chunks but having the Oreo powder so fine made them a bit crunchy (in a good way). Needless to say, half of the cookies are already gone! These are probably some of my favorite cookies and I will definitely make them again!!
Lovin From the Oven
has quickly become one of my favorite baking blogs. Everything she makes looks so scrumptious and I had such a good first experience with her Chocolate chip Oreo cookies that I'm tempted to try another recipe of hers very very soon!