Only recently did it dawn on me that I am, in fact, a foodie and that not everyone else loves food the way I do. That doesn't make me (or them) any better, it just means that food means more to me than simply a way to sustain life. To me, eating is one of the world's greatest pleasures and I enjoy a wide variety of foods (except raisins, blech!) I revel in pushing myself harder and making foods from scratch that I never thought I could.
Never before did I think that my simpler, more everyday meals were noteworthy until, while lunching with a couple of girlfriends, one of them took out a notepad to write down a smoothie recipe I was telling her about and the other quickly remarked that she wanted the recipe emailed to her. And so, I'm going to start blogging some quick and easy meals (like my
Pita Bread Pizza
) I make in addition to everything else.
Let's start with today's lunch: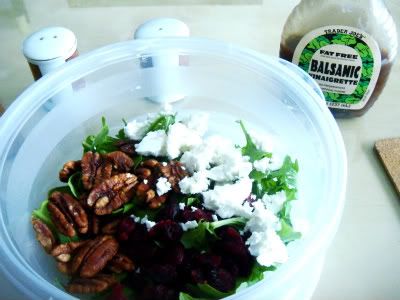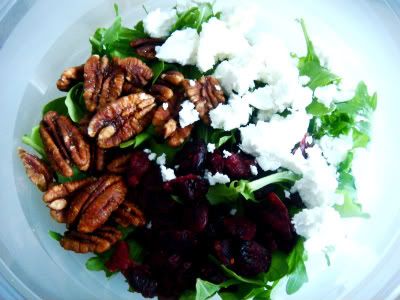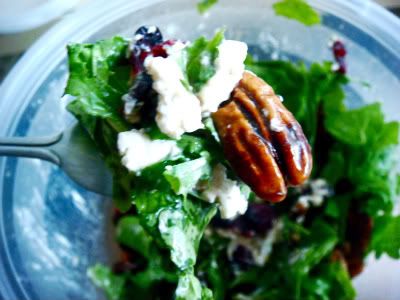 This is the greatest salad that ever was
Ingredients (approximate):
2 cups arugula
1/3 cup dried cranberries
1/3 cup candied pecans
1/3 cup goat cheese
balsamic vinaigrette
I bought candied pecans at Trader Joe's but if your local grocery store doesn't carry them,
this recipe
got great reviews and seems simple enough! Also, let me tell you a thing about me and goat cheese. When I was little I used to sneak into the kitchen in the middle of the night and eat half a log by myself!
I always put my salad in a tupperware, drizzle with dressing, close the tupperware and shake vigorously so it's well coated.
Anyways, I was STILL hungry after my salad so I made a grilled cheese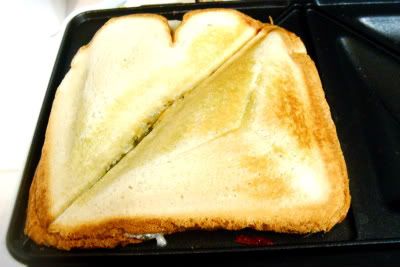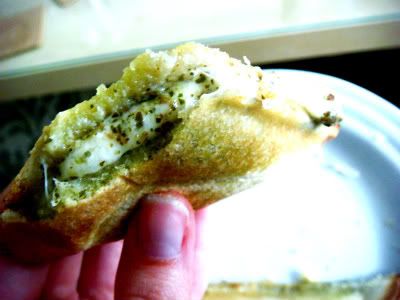 Pesto Grilled Cheese
Ingredients:
2 slices of toast
1 slice havarti
generous sprinkle of mozzerella
2 tablespoons pesto
I pressed the sandwich in my grilled cheese press, which is also a
panini press and waffle maker
(swoon!)
This sandwich was so ooey and gooey! I'm not a huge fan of plain white toast but the boyfriend buys it and it's really the only bread that works with the grilled cheese plates (yes, wheat toast would work too). I don't fight the bread situation because I usually just use wraps or pita breads anyways. Also, next time I won't put quite so much pesto on the toast. A heartier bread could have handled that amount of pesto but the oil ended up soaking through. All in all, it was pretty great nonetheless!
And (very exciting!) here are two new cookbooks I've purchased: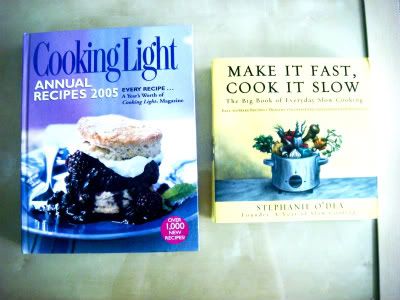 The one on the left I found in new condition at Goodwill for $3 and the one on the right I purchased from ebay for $7. Yes, that is a slow cooker cookbook, which can only mean one thing: I'm getting a slow cooker!!! My awesomely awesome friend Nicole gave me the crockpot she purchased for college and never used! It is being shipped from Miami next week and I'm already drooling over all of the delicious meats, stews, dips and drinks (yes, drinks!) that I can make from
Stephanie O'Dea
's recipe book :)
In my mind, I can see my mother rolling her eyes at my cookbook purchases since I still have 20-something (at least) recipe books crowding her house.