Maybe it's the Zicam or maybe it's the fresh fruit/veggie juice I've been drinking but I feel like a different person today! Of course juicing hasn't helped with my mangled fingers but my cold is about 95% gone. I may even be able to run to the gym tomorrow morning! Either way, my elixir of health contains 1/2 orange, 1/2 lemon, 2 small apples, 3 large carrots.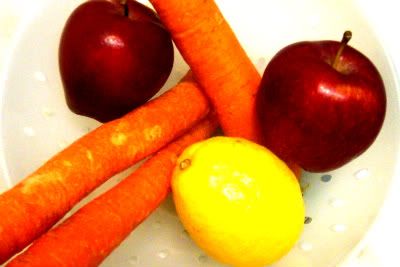 Yes, I wash my lemons too because any harmful bacteria on them can be transfered when you cut into them. I used the second half of the orange that did my left middle finger in which I already washed yesterday.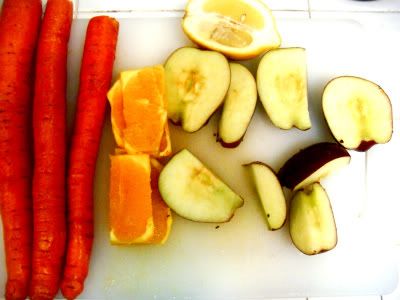 I would hate to reinforce bad habits on my blog (and in real life) so please note the new method of peeling my oranges which I am implementing starting today. I cut the half into two big slices and then cut the rinds off. You can leave the rinds on when juicing (I do so for my lemons because they're small) but I find leaving the orange rind makes the juice too bitter.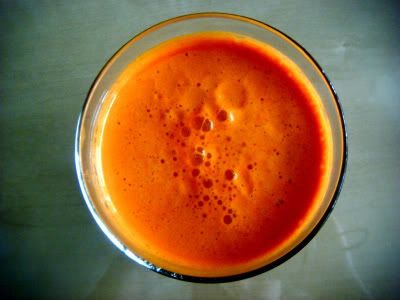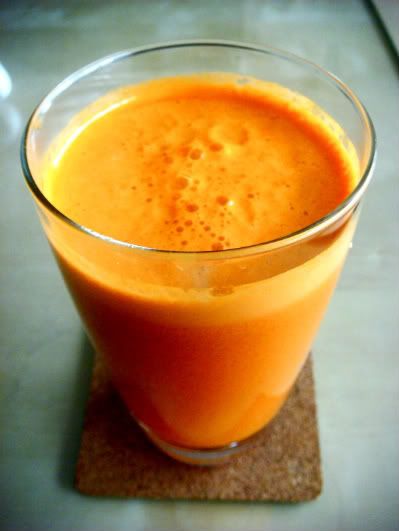 I absolutely love the color you get when juicing carrots and am very excited to try juicing beets! I will admit that when I first started juicing vegetables I had to choke the juice down. Over time I have grown to love juicing and have also come to realize which juicing combinations I like. For instance, celery juice is an absolute no-go for me! I also like to juice a fruit/veggie mix and always throw an apple or two in the mix since they go with everything. There are still so many juices I have yet to explore! On my to-juice list are: beets, ginger, lime (for now) but please send any juice suggestions you have.
Also, cleaning a juicer is NOT for the faint of heart.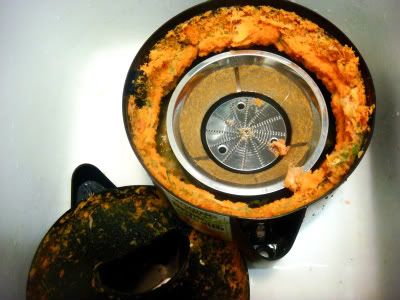 Try doing that with two fingers out of commission!