Yesterday I ate incredibly healthy. So when my body desperately craved comfort food today, I gave in. I woke up this morning as the boyfriend was getting ready for golf. He brought me a Clif bar and my plan was to wait 30 minutes to digest and then run to the gym, work out and run back. Instead, as soon as he left I promptly fell back to sleep. I woke up hours later only to realize it was 1:30 and I was ravenous! I made myself not one but two grilled cheese sandwiches with pesto, mozzarella and goat cheese. Delish! Then I was too full to run. Then the boyfriend came home. It was certainly a day of excuses but vegging out felt so good!
Later on, I made
this
Lovin From the Oven recipe for chocolate chip pudding cookies. However, I swapped out the vanilla instant pudding with chocolate instant pudding for an extra chocolatey experience.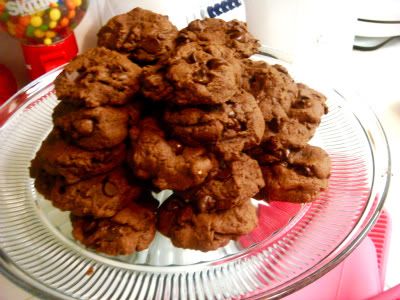 The cookies are truly amazing and unbelievably moist! They yielded just under four dozen small cookies (44) of which the boyfriend ate about a dozen fresh out of the oven, which promptly put him to sleep. They may possibly be better than the
Oreo chocolate chip cookies
I made a week ago, and those were gone in three days flat!! Recipe follows:
1 cup Butter (2 sticks), softened
3/4 cup Brown Sugar
1/4 cup Sugar
2 Eggs
1 1/2 tsp Vanilla
2 1/4 cups AP Flour
1 Chocolate Pudding (3.4oz) Mix by Jello (I used most of a big box)
1 tsp Baking Soda
1 tsp Salt
1 3/4 cup Chocolate Chips
preheat oven to 350 degrees
1. Cream the butter and sugars together, about three minutes. Next add the eggs and the vanilla.
2. In a separate bowl combine the flour, dry pudding mix, baking soda and salt. Add to the wet mixture and mix until combined.
3. Add the chocolate chips and combine again.
4. Scoop out tablespoon sized scoops and roll in a ball, having at least 1.5 inch space between each cookie.
5. Bake 11 minutes and remove from the oven. Let cool on the baking sheet 2 minutes before moving to a cooling rack.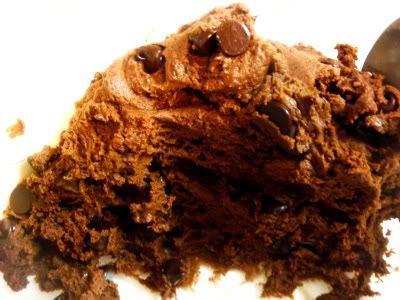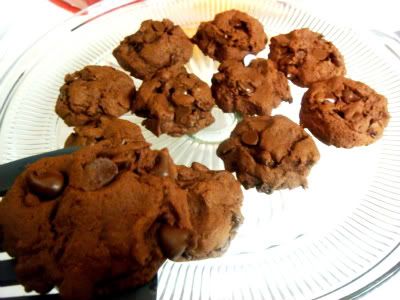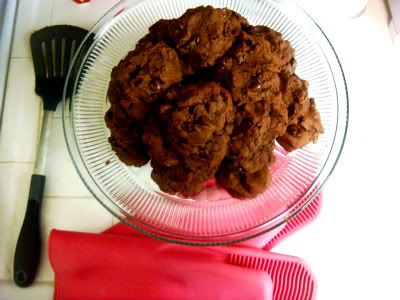 I knew I wanted to try a chocolate chip cookie recipe with instant pudding as an ingredient since a friend of mine made extremely moist and delicious cookies using such a recipe a few weeks back. When I saw this recipe on
Lovin From the Oven
I instantly put it on my to-bake list. I would like to remix this recipe again by swapping chocolate pudding for banana pudding and chocolate chips for pecans. I feel like that would be a great combination but not as big a hit with Matt.
I feel that after
the peanut butter cup cake
and these chocolate chip chocolate pudding cookies, my next batch of baked goodies will be something healthy(ish). Right now I'm debating between Martha's
quinoa muffins
(swapping raisins for Trader Joe's dark chocolate covered pomegranate seeds) or
these
avocado muffins. I happen to have a very ripe avocado in my possession and the idea of subbing out butter for avocado in baking intrigues me.
Other possible uses for my avocado: freeze it for smoothies (sounds weird, tastes great) or slice and place in a wrap with brown rice, black beans and cheese.