I admit it's a tad dorky but I was so excited yesterday to finally juice a beet in my juicer. Cutting the beet was quite gory. For a split second the knife slipped ever so slightly and I thought I had cut myself yet again! Luckily it was just beet juice that had me so freaked out. Oh boy did that look like a bloody mess! I was tempted to leave my juicing mess to wash later since I was on my lunch break but the juice was so deeply tinted I was worried it would stain everything. In my juice was 2 carrots, 1 beet, 1 tomato, 1 apple, 1/2 lemon.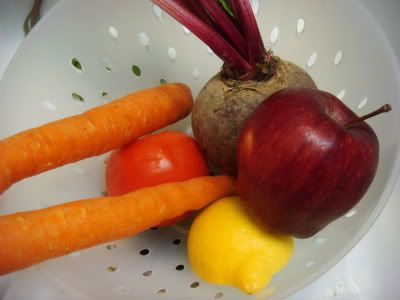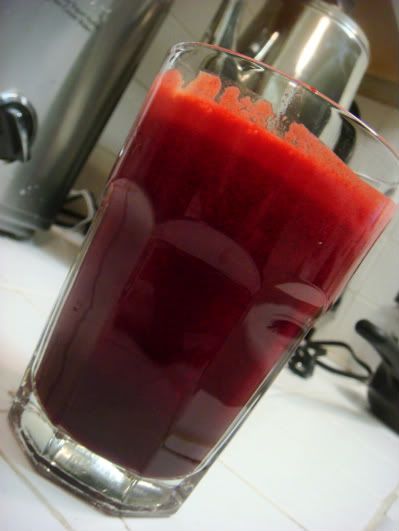 The juice was rather refreshing albeit earthy. That's my euphemism for "it tasted a bit like dirt". I definitely washed my beet well but just by the look of it I can tell that it grows in the ground. Perhaps I should invest in a vegetable brush? Or do I need to peel my beets before juicing them? Or is it supposed to taste like that? Either way I drank the whole glass and, other than the "earthy" taste, it was actually quite good. I have this theory that my insides must be a tie-die of bright colors between the yerba mate tea (which has a green stain to it), the carrot juice and the beet juice I've been drinking. I mean that in the best possible way of course.
Today was supposed to be my day to start running again. Well it's 9:15 AM and I'm still lying in bed (I have to be at work at 10). The boyfriend says we'll go to the gym before dinner; we're always so tired when we get out of work (why I work out in the morning) but I hope that we do end up going. Either way, I have the slightest bit of sniffles today so maybe it's best I take it easy. But tomorrow I'm going to set my alarm a half hour earlier (7 AM) so I have more time to convince myself to get out of bed, hehe. The other day I purchased
Zensah Compression Sleeves
for my shins. I don't consider myself hardcore by any means but getting shin splints really sent me off track. Probably the right thing to do is to get fitted for new running shoes but I'm still on an intern's salary (not making any money!) so that will have to wait.