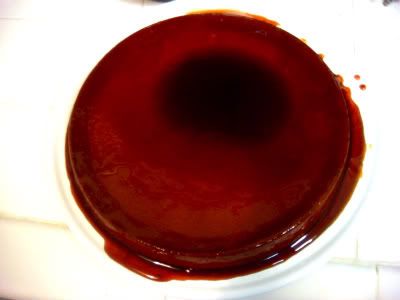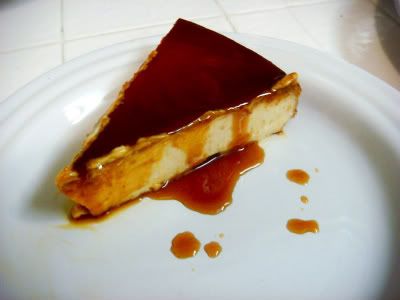 Last night I made flan de queso as per the boyfriend's request. This is an old family recipe (not the one I'm making in the slow cooker) passed down from my grandmother to my mother to me. Unfortunately, I can't post this recipe on the internet (you know, family secret!) but I can tell you some interesting facts about making flan:
The flan you are probably used to eating at restaurants is "flan de huevo" or flan made with eggs. My family recipe is "flan de queso" which means flan made with cheese.
The cheese in the recipe yields a rich and creamy texture similar to that of a cheesecake. It's almost a "flan de huevo"/cheesecake hybrid, if you can imagine that!
You have to melt a cup of sugar to coat the pan (how you get that golden brown, drippy caramel on top) which scares the bejeezus out of me! Hot sugar is far more frightening than hot oil.
Flan is cooked in

a

"baño de Maria" or

water

bath (similar to cheesecakes and custards) to ensure slow, even cooking.
Flan, like cheesecake, needs to cool overnight (or until completely chilled) before eating which is why my boyfriend and I shared a slice this morning for breakfast, hehe.
If you don't like flan de huevo, do NOT discount flan de queso! The texture is completely different, it's almost an entirely different dessert. Also, if you want to make flan for a dinner party and don't have time to make it a night in advance, I suggest making little individual flans in ramekins or a cupcake pan. The smaller surface area will lead to a shorter cooking and cooling time (plus everyone loves individual desserts!)